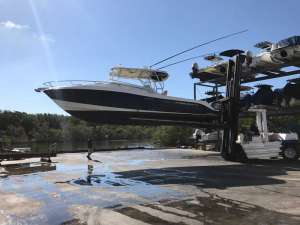 Our boat management service keeps your vessel in top condition throughout the year. We can help you maintain your boat in "Ship-Shape" condition helping your vessels systems, engines, and topsides remain in proper working order. A captain maintained vessel to us is a pristine vessel, ready to go whenever you are. If you're a part time resident here in Florida looking to keep your boat pristine during the summer months, or simply do not have the time and resources to manage your boat then our vessel management service may be just the thing for you. Prices for vessel management start as low as $100/month based on size, location, condition and services needed.
We can help you re-locate your boat from the Keys to Miami, into a boatyard or trailer. We can transport boats up to 40 ft. If you need to haul your boat for service or detailing, let us handle this for you. We use the best detailers and products to maintain the shine and sheeting surface on your boat. Ceramic coatings will extend your boats detail intervals and keep your boat looking new all year long.
We have relationships with Suzuki, Honda, Yamaha, Mercury and Evinrude Outboard techs for service and repairs. We also have fiberglass repair techs, electronics techs, and most major boat systems can be serviced or replaced.
Contact us now for a free no-hassles consultation.